The Material Eye
July 22, 2018 @ 10:30 am

-

September 15, 2018 @ 6:00 pm

IST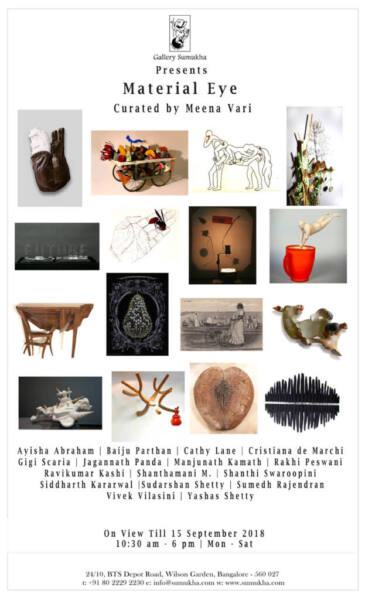 This exhibition focuses on how contemporary art, in its various forms, intent and content functions through art's physical characteristics and materiality. Artists have expressed their ideas through art making and for this they use and transform any material for content, thoughts, feelings, bodily and emotional. Also, for the longest time there has been lot of studies about materiality in contemporary art, its role and how it relates as an extension of very nature of being, of reality, existence and how it functions via its materiality. The aim of the exhibition is to establish these factors and also to build a connection between the audience and the work of art, as the engagement with art as it originates from material experience. The Material Eye is a comprehensive exhibition with works of sixteen artists from different part of India and abroad. There are sculptures in different mediums, new and old media works, video, sound art, archival material and even natural materials. The objective of the exhibition is to establish the importance of materiality in contemporary art in the current times and also to establish the importance of the physical experience of art regardless of whether the artwork is an object, a work on the wall, video or a film, traditional, low-tech media, conceptual or ephemeral works. The exhibition is conceptualized and curated by Meena Vari.
MATERIAL EYE
I rarely draw what I see – I draw what I feel in my body … Barbara Hepworth 1966
Making a separation between our own lives, and how we interact with the world and with 'Art' in particular is not easy.  Art objects embody ideas and experiences just as it occurs in our body; the medium where everything occurs. The interpretation depends on how it is sensed by each individual. Different layers and filters produced in our socio-cultural context is treated as material, also sound, language, hard or soft material, experiences, meanings are treated and interpreted as material with the knowledge that it shifts and changes in time. The material indicator provides the most crucial feature of the art's function and its meaning. Numerous internal and external factors like history; education, circumstances, location, context and mood determine how both the artist and the viewer encounter the work of art. Art has always been a link between imagination and reality, in the similar way in the current discourse, materiality in art, forms a nexus to how arts material qualities are sensed, interpreted and understood. Throughout history, artists have given expression to ideas by making art and for this they looked at ordinary materials and transformed them to into forms, and expressed them into thoughts and feelings, tangible and intangible, present or futuristic. In the recent times, materiality is become very important in the contemporary art practice. What material the artists choose and why they choose is always a reason to get closer to works of art. It is known to be a channel to understand what artists are thinking, it helps to understand what is the process of investigation for the artist to look at things, nature of things, how they reframe, juxtapose, anesthetize and create meanings, both for themselves and how it will be received by the viewer.  This exhibition seeks to deepen and expand this notion of mediums and materiality in contemporary art practice. The show aims to give that aesthetic experience of transformed material and materiality with embodied thoughts and feelings of the artists'. For the exhibition we invited 16 artists who have been using materiality as a tool to elaborate and enable inferences by focusing on the value and significance of it in the present times. The idea is to focus on the characteristics and narrative potential of the materials; it could be concrete, metal, wood,
ceramics, clay, paper, language, sound, found material, data etc.  – Meena Vari
Meena Vari is Dean of School of Media Arts and Sciences and also Dean of Contemporary Art and Curatorial Practice at Srishti Institute of Art, Design and Technology. She also coordinates activities of the Center for Experimental Media &Arts (CEMA) and works closely with artists to develop the practice of Experimental media and Arts in Srishti and outside. Since 2004, she has been curating an annual curatorial project called 'Srishti Interim' by inviting Contemporary artists from around the world. She has collaborated with arts organizations like TATE UK, Kochi Biennale Foundation, and Center for Research in Sound Art Practice London, Transmediale Berlin and more. As an independent curator, she has curated and represented contemporary art from India in national and international venues; most recent one was at National Gallery for Modern Art, Mumbai. She is interested in curatorial practice as a form of experience, cognition
and knowledge making.